Crash Course to Sleight of Hand with Shin Lim
Exclusive virtual magic lesson with two-time AGT winner Shin Lim!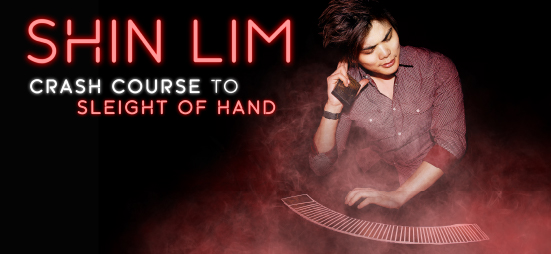 SHOW DATE: Sunday, July 19th, 2020
SHOW TIME: 5:00PM EST / 2:00PM PST
TICKETS ON SALE NOW!
---
Event Info:
**PLEASE NOTE  – one deck of cards is required for this class** You'll also need the ability to stream audio and video via ZOOM. A link with details on how to join will be emailed to you 1 hour before the event. All times are displayed in your local time zone.
Begin your journey into learning the art of Sleight of Hand card magic – join Shin as he guides you through your first magic lesson on sleight of hand.  You may even get the opportunity to be featured during the class get feedback from Shin directly!   We'll go over the fundamentals to sleight of hand, and maybe even some personal behind-the-scenes secrets about my shows to make tricks feel like ​real magic​.
For this First session, Shin Lim will be teaching "The Ambitious Card Routine". He will go over every basic technique needed to perform a full card routine with intricate attention to detail on movement and timing. Go from having no experience whatsoever to being able to demonstrate an
entire routine with just a regular deck of cards!
---
Ticket Prices:
$30 : General Virtual Class Ticket
$100 : Virtual Meet & Greet + General Virtual Class Ticket
Meet & Greet Info:
After the class get the opportunity to have a one-on-one virtual meet and greet experience through Looped with Shin Lim! Looped is a new platform that hosts live, 1-on-1 virtual video meet & greets and exclusive livestream events, which allows fans to connect with their idols like never before! Learn more on loopedlive.com. **Please note you will need a smartphone and the Looped app downloaded to access.
---
About Shin Lim:
Shin Lim is the 2015 world FISM CHAMPION for close up card magic, winner of America's Got Talent season 13 and America's Got Talent Champions.
A self-proclaimed "SLEIGHT OF HAND ARTIST". LIM admits that he is actually NOT a magician , nor a wizard, and has NO intention of LYING to the audience.
He performs carefully SELF-CHOREOGRAPHED routines rather than pretending to defy the laws of Physics. Combining Dexterity, Precision and Grace, he has distilled a Lifetime of training into a devious display of DANCING DIGITS. His mind-boggling finger moves are so MASTERFUL, that the audience is left to wonder what if their eyes have seen is truly possible.
socials